Good manners are what make life more pleasant.
And when you look at etiquette rules, a lot are really just based on good manners. Making people feel comfortable, accepted and welcomed.
When you're planning your wedding, you're going to be faced with a lot of etiquette. Ok, so you could just ditch the rules and do what you feel like but really, it's worth bearing in mind some of the tried and tested wedding 'manners' that have been around for a long while and will continue to be.
Here's our take on what's important for wedding etiquette today.
1. Invitations. We're all leading increasingly busy lives these days and so in our view, sending out a save the date card ahead of your wedding invitations is key - particularly if you're planning on getting married abroad or on a weekday when people may have to take time off work. If you're planning on a destination wedding - whether it's Italy or the Caribbean, people are going to have to budget to get there and may want to make a bit of a holiday of it. So send out save the dates to help your guests plan their schedules.
2. Your wedding gift list. Gone are the days when you asked for toasters, towels, kettles and other household paraphernalia. These days most couples have lived together before marrying and may have a fully equipped home. However a wedding gift list is still a good idea for you to add items that you're missing. Maybe a top of the range coffee maker; new bed linen. Don't make every item on your list expensive - you need to have a range of prices from £25 up to even over £1000. Everybody needs to feel that they can get something from your list, no matter what their budget. And if people bring a gift they've chosen for themselves then it should be received gratefully - after all it's the thought that counts. If you've decided to ditch the gift list and ask for contributions towards your honeymoon or a deposit on a house, then be prepared for some people to still give you gifts. They may feel uncomfortable giving money, even if that's what you need. You also need to write your thank you letters promptly - within three months of the wedding at the latest - and thank everybody for their gifts, small or large.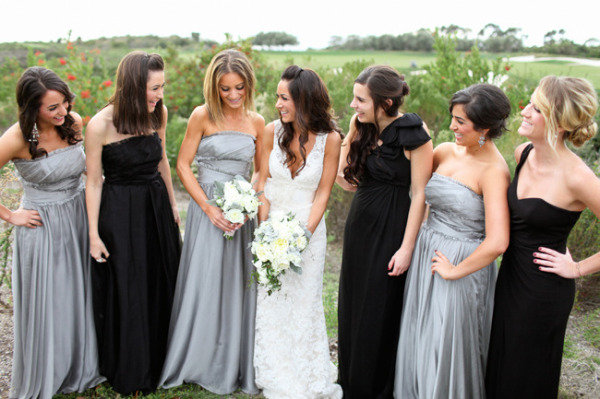 3. Your bridesmaids. Even if you've always planned to dress the bridesmaids at your wedding in hot pink ruffles, be prepared to think again. Not everybody suits the same dress or the same colour and it's much more considerate to your friends if you offer them styles of dresses that really suit them. Mismatched bridesmaids dresses are right on trend and you can hang the theme together by using different shades of a similar colour for an ombré effect. Remember, one style does not suit all - let your maids wear dresses that flatter and you'll be rewarded with wonderful photographs and life long friendship.
4. Food at your wedding. Some people are vegetarians, some are gluten intolerant. It's never a good idea to serve shellfish at your wedding (many people are allergic) so within reason allow for dietary choice. Perhaps most importantly, make sure that you don't skimp on food. If you're marrying at midday and then carrying on festivities until midnight, that means you are going to have to feed your guests twice - so allow for that in your budget. There's nothing worse than being expected to survive on crisps and nibbles all afternoon until an evening meal at 7pm. Far better to get married later in the day and just have a fabulous evening dinner rather than leave people feeling hungry.
5. A chill-out zone. If you're having dancing at your wedding you may need to move some guest tables aside to allow for the dance floor. Every guests needs to have a place to sit and not everybody will want to sit next to a noisy dance floor - they may prefer to chat quietly and catch up with wedding guests they haven't seen for a while. In this instance, it's polite and thoughtful to have a chill-out room - which could be an area outside the reception room with comfortable chairs, serving tea, coffee and wedding cake.
What do you think about wedding etiquette - are there any aspects you'd like to share with us? At Ananya we have wedding stationery, including thank you cards, which make writing to acknowledge gifts a pleasure.